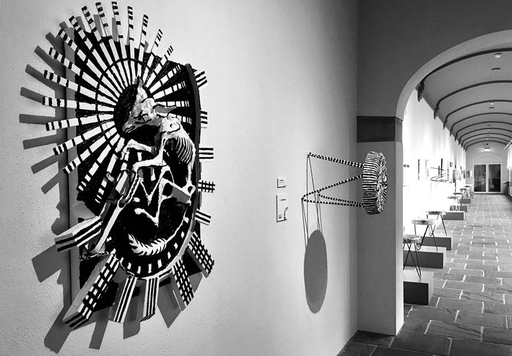 In his paintings and sculptures, Ivo Kamphuis uses old children's toys and skeletons of wild animals he freed from poachers' traps. He takes the carcasses to his studio where they are incorporated in oil paint assemblages or bone sculptures. By reusing and revitalising bones and skulls in his art, he gives them new life. Kamphuis' work is about metamorphoses, transformation processes and transferences of the soul. The artist makes phantasy animals out the remains of dead animals. He describes his two-dimensional work as oil paint assemblages. All kinds of objects are pushed into wet paint. Bright colours contrasts sharply with macabre images.

The artist does not only compose with animal bones but also with the caps of tubes of paint, children's toys and other 'useless' objects. These acquire a different, unusual function in his work. The central theme is the artist's fascination with the remains of dead animals, with the hunt, with murderous man who considers himself superior as the ruler of creation and allows himself to commit the most heinous crimes against animals. Kamphuis cherishes the remains of dead animals as if they were relics. But instead of mourning their senseless deaths, he assembles authentic creatures in order to give evolution a positive twist. Kamphuis does not paint in the usual manner but squirts paint from thick tubes onto the canvas or panel without thinning it down first. It is like modelling paint instead of clay. This method, combined with the assemblage technique, results in painting that is so steeped in matter that the remains of dead animals are brought to life.
© Text and translation from the exhibition "What Remains - Between beauty and decay" CODA Museum 04.09.2016 to 22.01.2017 (curator Wim van der Beek).
Art from Ivo Kamphuis in the collections of:
CODA Museum, Apeldoorn (Netherlands) - Museum Jan Cunen, Oss (Netherlands) - Stedelijk Museum Zwolle (Netherlands)